By having only two vanes, the risk of clogging from foreign matter in the fluid being pumped is reduced over a pump with more vanes. (For even messier fluids a single vane can be used.)

This type of pump might be used for pumping sludge or other contaminated liquids. It is also common for moving liquid paper stock.

All of the head in an impeller type pump is created by the impeller itself. The rest of the parts induce losses to the maximum head.

Losses are induced by friction of the fluid against the sides of the parts, by mechanical friction of the pump shaft, and from hydraulic efficiency losses such as fluid eddies and changes in direction (which takes energy).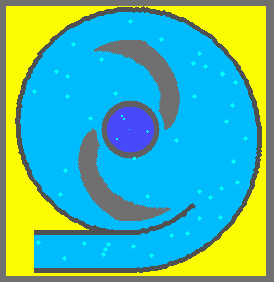 (This is a still representation and possibly also a low-resolution image of a pump which is fully animated in the CD-ROM version of this glossary.)