This pump is used for hand lotions, i.e. thick (high viscosity) liquids.

There are two metal balls inside this pump. The large lower ball fits inside the first few turns of the spring. The middle turns of the spring are of reduced diameter so they act as a stop for the ball.

This particular version of hand pump is patented by Calmar, Inc. though many fairly similar pump mechanisms exist.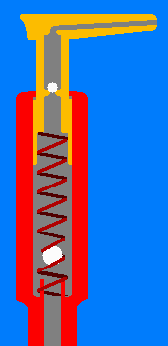 (This is a 25-frame animation, converted to animated GIF format for Internet use and then super-compressed for transmission. (Note: On some Internet browsers it may be displayed much less smoothly than the CD-ROM version, where the frames are timed to a thousandth of a second.))