This is a basically a type of Gear Pump but with lobes instead of gears.

The three-lobe gear pump, like the two-lobe version, is commonly used to force high-pressure air into combustion compartments of a diesel engine.

The output of these pumps is more pulsed than the output of a gear pump because there are fewer teeth. The fluid is delivered in comparatively larger packets.

Gases are compressible (whereas liquids basically are not), therefore the three lobe and two lobe gear pumps work particularly well with gases, since the compressibility helps smooth the flow.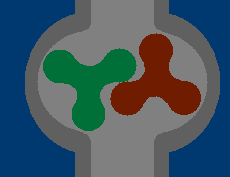 (This is a 20-frame animation, converted to animated GIF format and then super-compressed for Internet transmission. (Note: On some Internet browsers it may be displayed much less smoothly than the CD-ROM version, where the frames are timed to a thousandth of a second.))