The Discflo (tm) pump is manufactured by Discflo Corporation. It uses LAMINAR FLOW to achieve a low-maintenance pump which is virtually impervious to clogging, making it ideal for many wastewater industry applications.
Laminar Flow is a smooth, gentle flow, without abrupt changes in direction or pressure. By utilizing this flow, the pump surfaces ("rotary discs") are not damaged as much as with other pumps, because the liquid nearest them is flowing at nearly the same speed as the "rotary disc" surface itself.
The unique shape of this pump enables it to use laminar flow -- the pump is made of flat disks, or disks with small ridges on them. These disks produce a non-pulsating, smooth flow which reduces wear.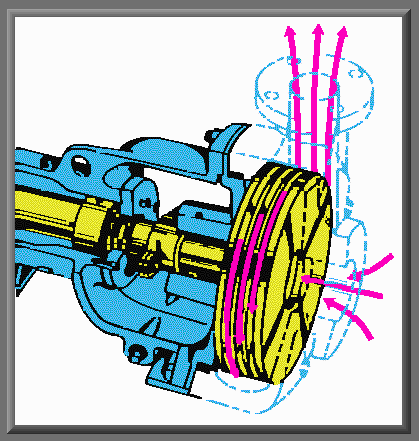 The flow through a typical Diskflo pump is shown in this drawing.
Fluid enters the pump through the input port (lower right, shown in outline here). The rotary disks accelerate the fluid gently.
As the fluid accelerates it moves to the outside of the disks, into the casing and out the outlet port.
Fluid in the Discflo pump travels in a spiral as it gains kinetic energy before being discharged.
The fluid being pumped forms a "boundary layer" of molecules immediately adjacent to the disks. Fluid further and further from the disks travels more and more slowly. Output is very smooth and nonpulsating.
Nikola Tesla's Turbine Pump is a forerunner of this pump.
---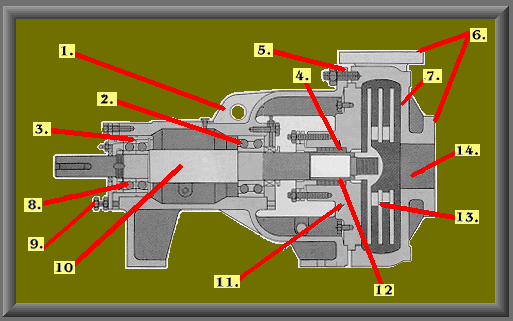 Here is a diagram of a typical Discflo (tm) pump. Discflo also offers several vertical configurations including submersible models.
Key:
Frame
Inboard Ball Bearings
Outboard Bearing Housing
Packing (other options available)
Back Pullout Bolt
ANSI 150 or 300 lb. Flanges
(DIN or JIS also available)
Concentric Housing
Double-Row Thrust Bearings
Axial Adjustment (Used to reduce
pressure at packing or seal area)
Precision-Grounded Shaft
Convertible Packing/Seal Box
Shaft Sleeve (ceramic or
stainless steel)
Custom Designed Rotary DISCPAC
Interchangeable Bearing Frames
Images courtesy Discflo Corporation.
---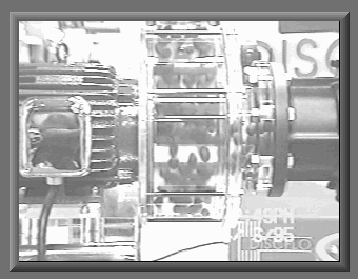 This video clip, provided by Discflo (and animated on the CD-ROM version of this glossary) shows the pump being used to pump olives mixed in water without any significant damage to the olives.
---